Early History of the 23rd Tactical Air Support Squadron (TASS)

In early January 1966, the Air Force's 505th Tactical Air Control Group sent Lieutenant Colonel Robert L. Johnston to Udorn Air Force Base, Thailand. He was to test the feasibility of placing regular FACs over northern Steel Tiger where the Ho Chi Minh Trail passed through Central Laos.

As personnel at Udorn completed agreements on the final details of the initial deployment, someone pointed out that the Air Force needed a code name to designate the operation. Instead of looking through the book containing the list of approved names for classified operations, the planners decided to brainstorm for an appropriate name. Colonel Johnston suggested the name of his dog, Cricket. Thus, "Operation Cricket" came into being.

By coincidence, this name was a propitious choice. The cricket was a highly venerated creature in the lore of Thailand, so perhaps the name was a good omen for the success of the mission. Although the FACs that participated in Operation Cricket flew under the call signs of "Gombey" and then "Nail," they became widely known as the "Crickets."

Within a few days, five experienced in-country FACs received orders to proceed to Thailand on a highly classified mission. This small group of pilots with their O-1s converged on a remote airfield in northeast Thailand near the Laotian border. Their first FAC missions were flown on 21 January 1966 from Nakhon Phanom Royal Thai Air Force Base, a small strip of perforated steel planking about eight miles west of the Laotian border.

At the beginning of 1966, the base at Nakhon Phanom was little more than a tactical air control system radar site. The arrival of Colonel Johnston and his initial group of Crickets marked the first step in the evolutionary process that converted this small jungle clearing into the most important military installation pitted against the enemy's use of the Ho Chi Minh Trail.

On April 15, 1966, PACAF organized a fifth FAC squadron as the 23rd TASS with Lieutenant Colonel Johnston as the commander. The squadron's initial assignment was at Udom Royal Thai Air Force Base in northern Thailand. Udom's location, however, was better suited for air operations against Barrel Roll than Steel Tiger. So, the 23rd TASS was reassigned to the airfield at Nakhon Phanom. On July 15, 1966, the squadron completed the relocation into facilities that were austere, but adequate.

Following a 29 April 1966 request from USAF Captain John C. Taylor to Mr. Walt Disney, the squadron patch featuring Jimney Cricket was designed by people of Walt Disney Productions.

During the Vietnam War, personnel of the 23rd TASS were awarded the following unit citations: Five Presidential Unit Citations, 3 Air Force Outstanding Unit Awards with Combat "V" and 3 Republic of Vietnam Gallantry Crosses with Palm, along with 13 Southeast Asia Campaign Credits.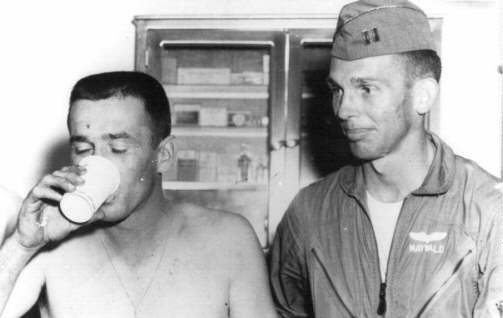 In May 1968, 23rd TASS Major Gerald Dwyer enjoys some refreshment in the dispensary at NKP as Captain Phil Maywald looks on. Gerry had just been picked up by Jolly Greens (for the second time in less than 3 months) after being shot down near the A Shau Valley of South Vietnam. Phil had answered the MayDay call and soon was overhead in another 23rd TASS O-2.

During an air and ground battle, at least one crewman on a Jolly Green was wounded. Gerry shot at least two enemy soldiers after one had thrown a hand grenade into Gerrys hiding place on a terraced hillside. The grenade was a dud. In the meantime, Phil was making numerous low passes directing airstrikes against enemy gunners.

When a final rescue attempt was about to be abandoned because the Jolly Green was running out of fuel, Phil asked for one more attempt and promised he could take them to a nearby Lima Site in Laos to refuel. Phil had spent a couple of months as a Raven FAC flying out of such sites in civilian clothes in the fall of 1967. The pickup was made, Phil took them to refuel, and Gerry was returned safely to NKP.

For that mission, Gerry was awarded the Silver Star. Phil was nominated for the Medal of Honor and eventually was awarded the Air Force Cross, the highest award earned by 23rd TASS FACs during the war in Southeast Asia. Perhaps one of the deciding factors had been that during all those low passes, when Phil was virtually on top of the enemy gunners, his unarmed O-2 never was hit by any of what likely were hundreds of shells fired at him.

Enter supporting content here